Choosing the right sunglasses for your face shape can be challenging. While some frame shapes will improve your best facial features, others don't. Aside from protecting your eyes, a pair of shades will hide some flaws, finish off an outfit, and create a style statement. Thus, picking the right sunglasses is quite rewarding. As you search for the right pair of sunglasses, you must determine first the frames that complement the shape of your face. Although some people can wear anything they like, some types of glasses are off-limits for others.
Face shapes include a square, oval, round, and heart. To know your face shape, take a photo of yourself facing the camera and outline the edge of your face using a piece of tracing paper to work out the shape of your face.  The right kind of sunglasses depends on your face shape.
If you want to know what type sunglasses fit my face, keep reading:
Sunglasses For Square Face Shape
In general, the shape of your sunglasses must be opposite to the shape of your face. This will help in creating a balance by creating a definition or softening harsh features. For instance, wide cheekbones and a strong jawline add up to a square face. If you have these features, round frames tend to look better on you than angular designs with sharp lines. You won't go wrong with Eyedope's Captiva.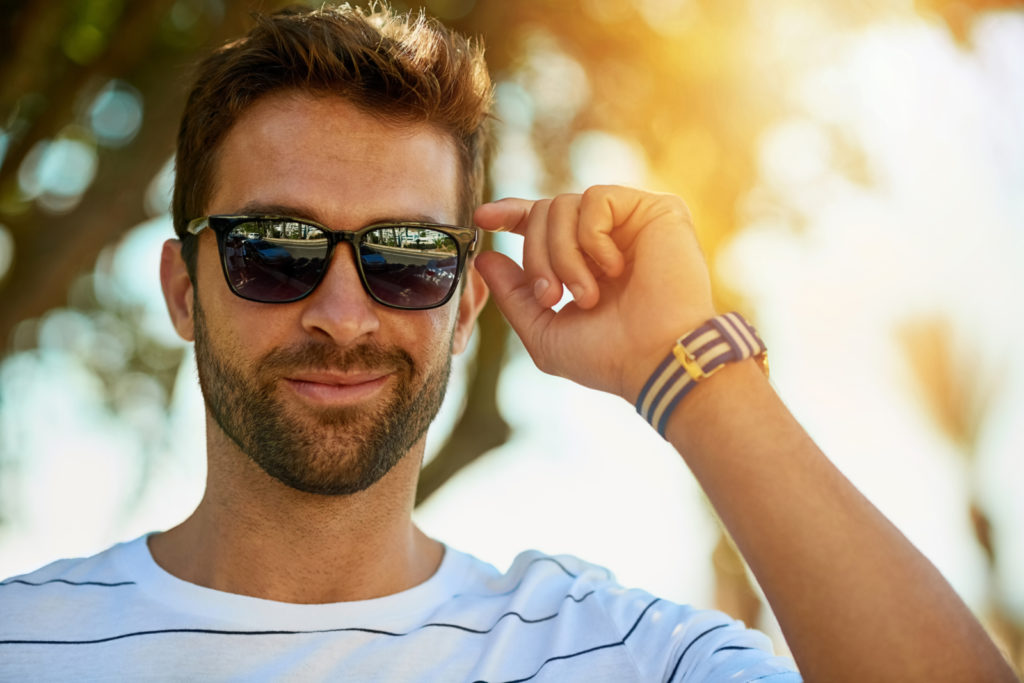 Sunglasses for Oval Face Shape
People with oval face shape can wear any frame out there. The only thing to keep in mind is to sidestepping frames with arms that hang too low because this will elongate the face further. However, before you pick the best pair of sunglasses for you, consider your hairstyle and skin tone. Generally, large, dark frames are quite flattering and complement the cheekbones of an oval face shape. Always think about proportion and try not to go too small or too big for your face. You can find a range of selection of sunglasses for this face ship at Eyedope.
Sunglasses For Round Face Shape
Men who have round faces must go for sunglasses that create definition. A style with a strong brow line in a size that is slightly wider than the head will make the cheeks look slimmer. Also, angular glasses will help elongate the temples and lengthen the face of guys with a round face. Avoid circles unless you wish to over accentuate your round face. Try to stick to square, angular frames like the Idol from Eyedope.
Sunglasses for Rectangular Face Shape
The best sunglasses for this type of face are those that can provide the face with a sense of balance and add width to the long shape. Square or round frames work well here; however, ensure you go for bigger, even slightly oversized styles.
Sunglasses for Heart Face Shape
Square frames tend to complement a narrow chin and add various angles for more layers of visual interest. If you a heart-shaped face, don't go for anything oversized or teardrop shapes. Instead, choose something that has a sharper corner.
Author Bio – Ron McCcoy is Founder and CEO of EyeDope; A luxury sunglasses brand offering classic and contemporary styles made in Italy.