Finding the perfect outfit can be a challenge. Finding an exact match or even a close coordinate for a color can be difficult. Unfortunately, sometimes colors match, but fabric styles or textures differ wildly. Environmental temperature swings from air conditioning and heating can make staying comfortable feel impossible.
Despite these factors, rocking your best look at the next big event doesn't have to be complicated. Matching sets do all the work of finding pieces that look and feel like they were meant to be together. The following are a few of the matching options we've found for some important life events.
Source: Look Studio/shutterstock.com
Workday Wonders
Between running carpool and chairing committees, workdays are busy. Your clothing doesn't need to make your morning even more challenging. A polished black tweed jacket and skirt set with oversized pearl buttons is one of many elegant matching set outfits suitable for professional appearances.
In the summer or on casual Fridays, coordinated sets can bring a festive spirit to everyday life. Coworkers will enjoy the vibes from your tropical green halter top and midi slip skirt set. Tiers, ruffles, and ties can bring out your playful side while reminding everyone of happier times.
Longer crop top and skirt sets in florals and geometric prints are a few coordinated options that can go from day to night. A quick change of purse, shoes, or other accessories can turn this office wear into your favorite happy hour gear. Dressing for success can ensure you're ready for all occasions and spare you an extra trip home to change clothing.
Day Trip Dynamos
Whether you're traveling between offices or beaches, you need versatile clothes, including matching accessories, fit for sudden changes in plans. Matching set outfits are full of verve to build your energy effortlessly, and pairing them with complementary accessories, like fun sunglasses, can go a long way. An off-the-shoulder crop top and short, flaring skirt in a matching bright red floral pattern fits the bill.
A flirty coral top and skirt set in breezy rayon is another on-the-go match you won't want to miss. Its carefree wrap tie adds vitality and movement. Other fun details that make paired separates especially festive include ruffles, midriff cutouts, and matching buttons or other notions.
If you're spending a lot of time in the sun, you need to be sun-savvy. Wearing sunscreen will preserve your complexion while adding some color or design-coordinated shades will help pull your look together and provide crucial sun protection for your eyes.
Casual Companions
While we all love the holidays or vacations, many events fall outside of these categories. Movie nights, catch-up lunches, and at-home potluck parties are a few examples of such casual fun times. Two-piece dressing makes it easier to focus on your family and friends instead of deciding what to wear.
Gingham fabric is a perennial favorite that can give your look a touch of whimsy. All-over gingham is an option that is incredibly rejuvenating for a crop top and short swing skirt combo. A pre-paired blue gingham set with a matching maxi skirt is a rejuvenating choice. Elastic sleeves and waistband on the top give this ensemble a customizable fit and extra coverage.
Gingham is a classic, but sometimes you need an escape. A coordinated number in a bold tropical botanical can help you forget your cares while you have fun. Head-to-toe bright florals can evoke the great outdoors and help your friends feel refreshed while enjoying your company.
Source: RaniLisza/shutterstock.com
Elegant Upgrades
When the lights go down, it's time for the stars to shine. While formal dinners or even cocktail parties conjure visions of elaborate gowns, glamorous doesn't have to mean high maintenance. Matching set outfits come in an array of couture-worthy colors and fashionable fabrics. Try pairing a silky hot pink halter with a corresponding cinched skirt for fresh-off-the-runway style. Complete this ensemble with coordinating jewelry and a pair of metallic suede heels.
Two-piece sets have a romantic side, too. A rose gold sequined top and coordinating floor-length sheer skirt conjure images of fairytales. Yes, you, too, can be the fairy princess with an array of matching set ensembles, including cute sandals and accessories, in luxurious fabrics and glamorous silhouettes.
Dream Makers
Fancy events don't happen every day. Sometimes the best dreams happen in bed. Two-piece pajama sets give you room for your body to relax as your mind creates new possibilities for your life.
A common myth is that pajamas are reserved for cold, wintry days. While they are available in warmer fabrics, pajama sets are also made in breathable modal and cooling cotton. Some even have short-sleeved tops or soft shorts in place of pants to keep you cool on the hottest nights.
Besides sleep, lounging on the couch is another of our favorite places to have bold visions of the future. Whether in bright peach or soothing oatmeal, sweatshirt and jogger sets are excellent for relaxing. When you choose a lounger set decorated with dogs, your dreams can include your favorite canine companion.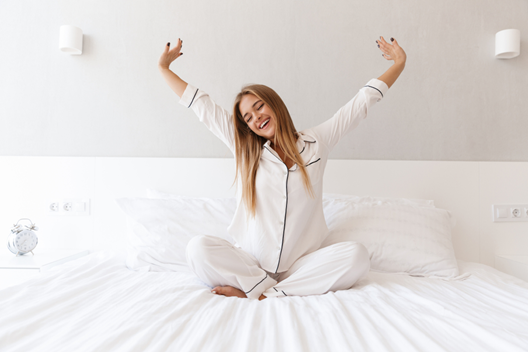 Source: Dean Drobot/shutterstock.com
Rock It Your Way
Whether you're headed for a night out on the town or an afternoon of "me time" at home, finding the right outfit doesn't have to be a chore. Matching two-piece sets can spare you hours of rummaging through your closets for something to wear. Add some coordinated accessories and shoes to your set, and get ready to enjoy the compliments. Once you're in your matching set outfit, you can focus on enjoying whatever your day or night brings.