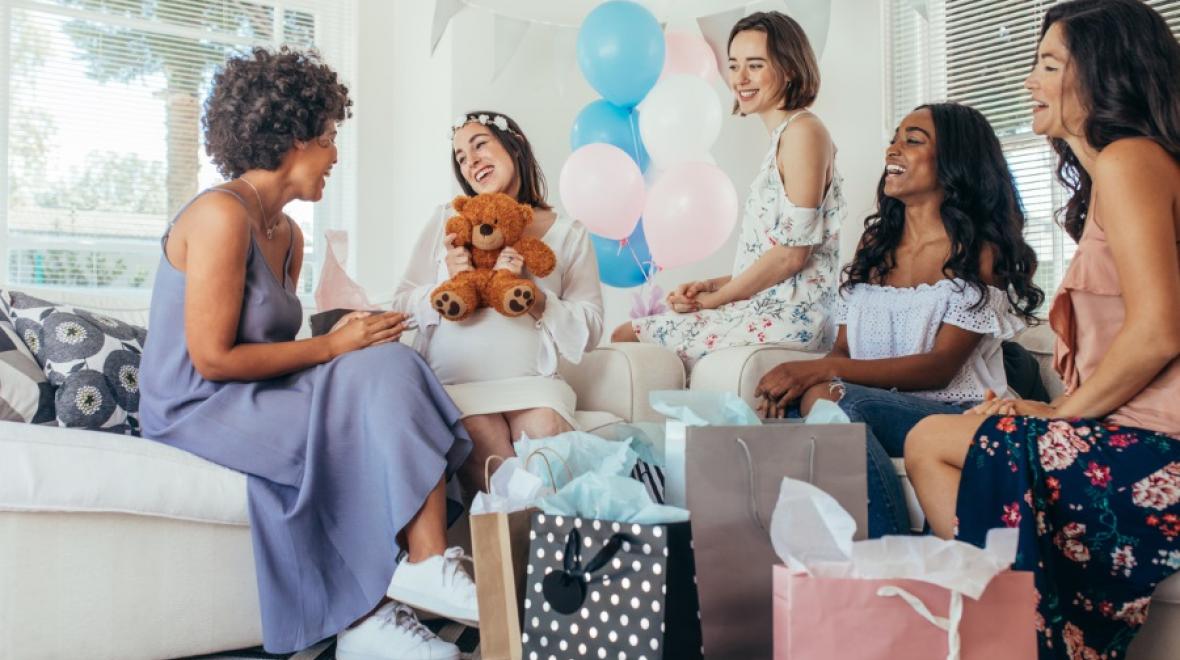 Have you recently been invited to a baby shower but have no idea what to buy? Sure, there's a baby registry that gives you some idea of what the parents are looking for, but most guests tend to rack up on the obvious like bottles, bibs, and diapers. You, on the other hand, want to be different than the rest and purchase something unique and meaningful that mom and/or baby can appreciate. If that's what you're going for, this list of unique baby shower gifts should give you some great ideas:
 Crochet Booties
 Before the baby can even walk lots of people like to purchase them shoes. They are adorable and tiny and so most feel they are a must-have. In all actuality, however, a newborn isn't going to get much use out of hard bottom shoes. If you want to get something to keep baby's feet warm other than socks, you might opt for crochet Jordans. Crafted with care these crochet baby shoes are adorable, comfortable, and warm on baby's feet. Warmer than socks, they can be worn on a cold day while still adding a bit of style to baby's wardrobe.
 White Noise Machine
 Sleep deprivation is very real for new parents. As they're newborn adjusts to life they often struggle to sleep for long periods of time. Without much sleep, however, mom and dad aren't able to be as efficient as they need to be to care for their newborn. Do the family a favor and purchase a white noise machine. It's an easy go-to option to help soothe the baby for a better night of rest.
 Mommy Care Kit
 When it comes to baby showers, everyone tends to focus most on buying things for the baby. Though this does help the parents and save them some money, there are other unique and meaningful gifts you can buy exclusively for adults. A mommy care kit, for example, can help a likely tired and overworked mom feel good and relax. Your kit can include anything from aromatherapy candles and essential oils to her favorite wine and a good book. Dad's need a bit of love too. So, you can also purchase dad a care kit with his favorite beer, a few cigars, and perhaps his favorite snacks so he can recharge and relax.
 Night Nurse Services
 Another way you can help mom and dad get some much-needed rest at night is to invest in a night nurse for the first few weeks. These are trained and certified medical professionals that provide services to families of newborns during the first few weeks at home. They will come to the home during the night and take over everything from the feeding and diapering to entertaining and coddling baby giving sleep-deprived parents a chance to get some rest. If you can't afford to hire a night nurse as a gift, you can always offer your own time. Volunteer to come over and watch the baby, cook, clean, or provide support in any way you can, especially during the first few months.
 Meal Kit Delivery
 When you're trying to adjust to life with a newborn in the house you tend to forget about your own needs. Trying to cook while nursing or tending to the needs of a baby is often a struggle. Give mom and dad some assistance by purchasing a meal kit delivery service for a few weeks. Even one meal a day that comes already prepped with an easy to follow recipe and all the necessary ingredients cuts them some slack and ensures they're keeping up with their health and nutrition.
 Baby's First Photos
 A gift that the entire family would appreciate is a paid photo package for them to get their first professional photos of the baby. From department stores and malls to studios and freelance photographers, there are a lot of options to choose from. Make sure you schedule the photos for a time when it is most convenient for mom, dad, and baby.
There are so many adorable things on the market to choose as baby shower gifts. As you know everyone will be jumping at the opportunity to buy the more obvious and affordable gifts, you can step outside of the box. The above-mentioned baby shower gifts are unique, thoughtful, and will certainly be of great help to mom, dad, and baby.